Boeing E-3 Sentry Military Surveillance Aircraft
The Boeing E-3 Sentry is an airborne early warning and control (AWACS) developed by Boeing as the prime contractor. Derived from the Boeing 707, it provides all-weather surveillance, command, control and communications, and is used by the United States Air Force (USAF), NATO, Royal Air Force (RAF), French Air Force and Royal Saudi Air Force. The E-3 is distinguished by the distinctive rotating radar dome above the fuselage. Production ended in 1992 after 68 aircraft were built.
In the mid-1960s, the USAF was seeking an aircraft to replace its piston-engined EC-121, which had seen service for over a decade. After issuing preliminary development contracts to three companies, the USAF picked Boeing to construct two airframes to test Westinghouse Electric's and Hughes's competing radars. Both radars used pulse-Doppler technology, with Westinghouse's design emerging as the contract winner. Testing on the first production E-3 began in October 1975.
The first USAF E-3 was delivered in March 1977, and during the next seven years, a total of 34 aircraft were manufactured. NATO, as a single identity, also had eighteen aircraft manufactured, basing them in Germany. The E-3 was also sold to the United Kingdom (seven) and France (four) and Saudi Arabia (five, plus eight E-3 derived tanker aircraft). In 1991, by which time the last aircraft was delivered, E-3s participated in Operation Desert Storm, playing a crucial role of directing Coalition aircraft against the enemy. Throughout the aircraft's service life, numerous upgrades were performed to enhance its capabilities.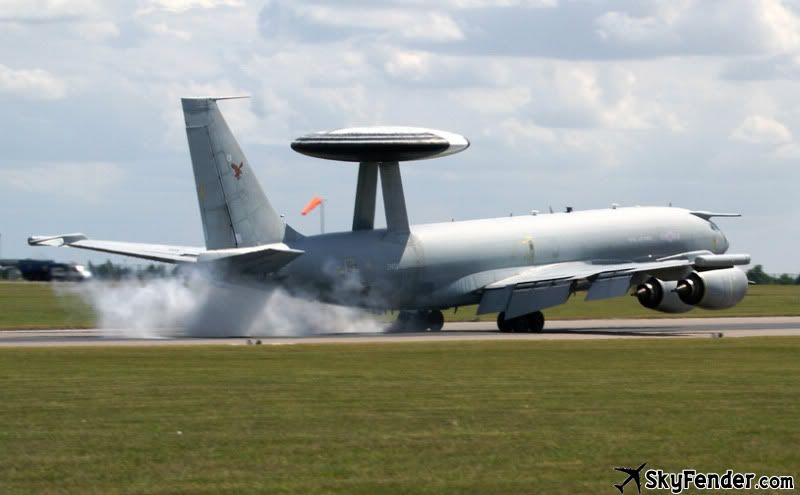 The E-3 Sentry's airframe is a modified Boeing 707-320B Advanced model. USAF and NATO E-3s have an unrefueled range of some 4,000 mi (6,400 km) or eight hours of flying. The newer E-3 versions bought by France, Saudi Arabia and the UK are equipped with newer CFM56-2 turbofan engines, and these can fly for about 11 hours or about 5,000 mi (8,000 km). The Sentry's range and on-station time can be increased through air-to-air refueling and the crews can work in shifts by the use of an on-board crew rest and meals area. When deployed, the E-3 monitors an assigned area of the battlefield and provides information for commanders of air operations to gain and maintain control of the battle; whilst as an air defense asset, E-3s can detect, identify and track airborne enemy forces far from the boundaries of the U.S. or NATO countries and can direct fighter-interceptor aircraft to these targets. In support of air-to-ground operations, the E-3 can provide direct information needed for interdiction, reconnaissance, airlift and close-air support for friendly ground forces.