Sukhoi Su-27 Russian Fighter Jet Plane
The Sukhoi Su-27 (Russian: Сухой Су-27) (NATO reporting name: Flanker) is a twin-engine supermanoeuverable fighter aircraft designed by Sukhoi. It was intended as a direct competitor for the large United States fourth generation fighters, with 3,530-kilometre (1,910 nmi) range, heavy armament, sophisticated avionics and high manoeuvrability. The Su-27 most often flies air superiority missions, but is able to perform almost all combat operations. Complementing the smaller MiG-29, the Su-27's closest US counterpart is the F-15 Eagle.

In 1969, the Soviet Union learned of the U.S. Air Force's "F-X" program, which resulted in the F-15 Eagle. The Soviet leadership soon realised that the new American fighter would represent a serious technological advantage over existing Soviet fighters. What was needed was a better-balanced fighter with both good agility and sophisticated systems. In response, the Sukhoi design, which was altered progressively to reflect Soviet awareness of the F-15's specifications, emerged as the T-10 (Sukhoi's 10th delta wing design), which first flew on 20 May 1977. The aircraft had a large delta wing, clipped, with two separate podded engines and a twin tail.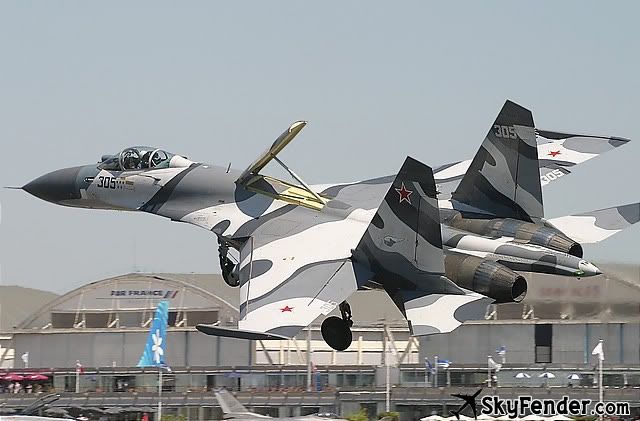 The Su-27's basic design is aerodynamically similar to the MiG-29, but it is substantially larger. It is a very large aircraft, and to minimise its weight its structure has a high percentage of titanium (about 30%, more than any of its contemporaries). No composite materials were used. The swept wing blends into the fuselage at the leading edge extensions and is essentially a cropped delta (the delta wing with tips cropped for missile rails or ECM pods). The Su-27 is also an example of a tailed delta wing configuration, retaining conventional horizontal tailplanes, though it is not a true delta. It has two vertical tailfins outboard of the engines, supplemented by twofold-down ventral fins for additional lateral stability.[citation needed]
The Su-27's Lyulka AL-31F turbofan engines are widely spaced, both for safety reasons and to ensure uninterrupted airflow through the intakes. The space between the engines also provides additional lift, reducing wing loading. Movable guide vanes in the intakes allow Mach 2+ speeds, and help to maintain engine airflow at high alpha. A mesh screen over each intake prevents debris from being drawn into the engines during take-off.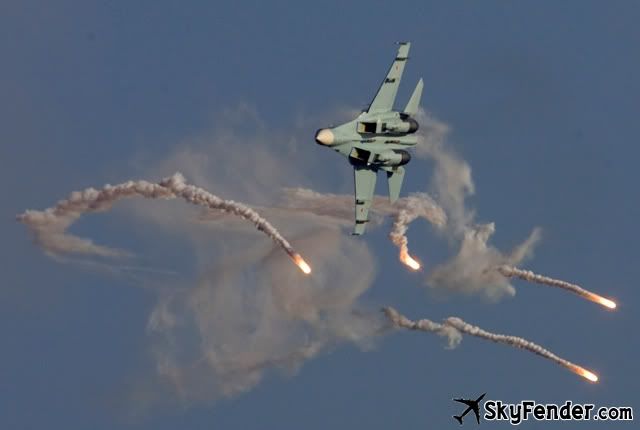 In addition to its considerable agility, the Su-27 uses its substantial internal volume for a large internal fuel capacity. In an overload configuration for maximum range, it can carry 9,400 kg (20,700 lb) of internal fuel, although its manoeuvrability with that load is limited, and normal load is 5,270 kg (11,620 lb).