Bell AH-1Z Viper Helicopter
The Bell AH-1Z Viper is a twin-engine attack helicopter based on the AH-1W SuperCobra, that was developed for the United States Marine Corps. The AH-1Z features a four-blade, bearingless, composite main rotor system, uprated transmission, and a new target sighting system. The AH-1Z is part of the H-1 upgrade program. It is also called "Zulu Cobra" in reference to its variant letter.
The AH-1Z incorporates new rotor technology with upgraded military avionics, weapons systems, and electro-optical sensors in an integrated weapons platform. It has improved survivability and can find targets at longer ranges and attack them with precision weapons.
The AH-1Z's new bearingless, hingeless rotor system has 75% fewer parts than that of four-bladed articulated systems. The blades are made of composites, which have an increased ballistic survivability, and there is a semiautomatic folding system for storage aboard amphibious assault ships. Its two redesigned wing stubs are longer, with each adding a wing-tip station for a missile such as the AIM-9 Sidewinder. Each wing has two other stations for 2.75-inch (70 mm) Hydra 70 rocket pods, or AGM-114 Hellfire quad missile launchers. The Longbow radar can also be mounted on a wing tip station.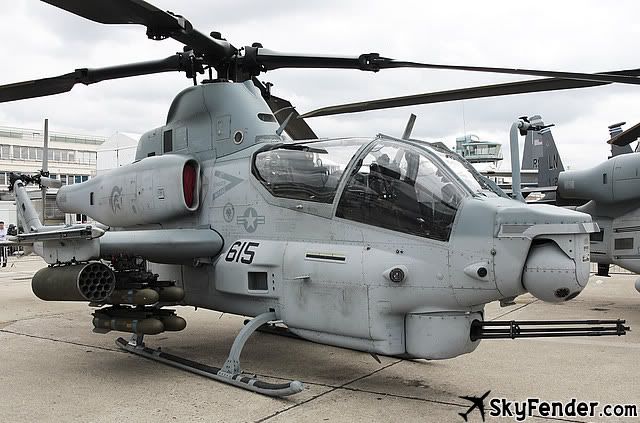 The Z-model's integrated avionics system (IAS) has been developed by Northrop Grumman. The system includes two mission computers and an automatic flight control system. Each crew station has two 8x6-inch multifunction liquid crystal displays (LCD) and one 4.2x4.2-inch dual function LCD display. The communications suite combines a US Navy RT-1824 integrated radio, UHF/VHF, COMSEC and modem in a single unit. The navigation suite includes an embedded GPS inertial navigation system (EGI), a digital map system and a low-airspeed air data subsystem, which allows weapons delivery when hovering.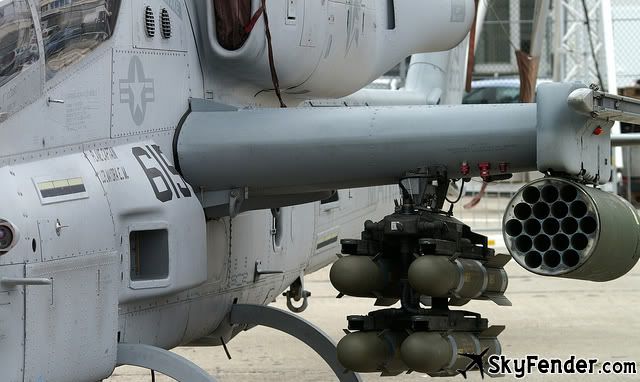 The crew are equipped with the Thales "Top Owl" helmet-mounted sight and display system. The Top Owl has a 24-hour day/night capability and a binocular display with a 40° field of view. Its visor projection provides forward looking infrared (FLIR) or video imagery. The AH-1Z has survivability equipment including the Hover Infrared Suppression System (HIRSS) to cover engine exhausts, countermeasure dispensers, radar warning, incoming/on-way missile warning and on-fuselage laserspot warning systems.